Networking Neighs
A Totally Difference Networking Experience
If people buy WHY you do you "THING" how come we spend most networking events telling people WHAT we do? Networking Neighs offers a totally different perspective on networking as we encourage you to be real and authentic and share why you do your THING.
When you are real and authentic true business connections develop and collaboration results.
How many meetings have you been too where you felt you really weren't connecting to the people you want to do business with?
Are you really "being you" at a Networking Event?  If not, how will you attract those people who you can work with and take your business/career forwards?
Have you ever shared with others why you are inspired to run your business. What motivates and drives you?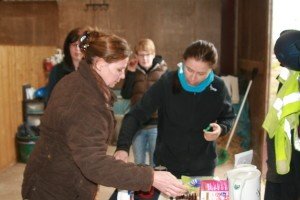 "People don't buy WHAT you do, they buy WHY you do it."
Simon Sinek
Why Is This Networking Event Different?
If you've been frustrated by the typical networking events you attend then you'll love this new approach.
Plus as an added bonus you'll be challenged to step out of our comfort zone and try something different as all our networking happens in the presence of horses.
Can you imagine standing with a horse discussing your business?  Once we free ourselves of how we "should" behave in any given environment, we can open ourselves to endless possibilities and the ability to truly connect and communicate.
We encourage you to be authentic.
Bring who you are and where you are and want to go with your business.
Truly connect with other businesses on an individual level in an unique environment.
The horses join us on the Breakfast Meeting and encourage us all to step up and challenge ourselves and connect with those we should.
Why Should I Attend?
A simple answer, why not? Everyone is welcome to come and join us. Whether you are a business owner, an entrepreneur or have aspirations to create your own business. No experience with horses is required, just wear outdoor clothing and wrap up warm.
Will I Get To Interact With The Horses?
Yes absolutely!  Toby, Charlie, Bracken and Thistle are an integral part of the morning and help shape conversations with Networkers as we encourage at least one of the 1-2-1 Sessions to take place in the arena with the horses. We have found this to have stimulated some incredible conversations!
So why not spend your morning making business connections and horsing around?
Come and join us for this unique Networking Event!
Want To Secure Your Place?
All Networking events are listed on Eventbrite